How to order
Shop from our wide array of curated designs & colourways. Make the cake uniquely yours by following the steps below. Your dream cake, your way!
1. Choose your favourite design.

2. Choose size, flavour & colours. There're options to customise your own colour palette, add text or accessories.

3. Select your preferred date on cart page. Delivery option can be selected on the check out page.

* No changes can be made once the order are placed so make sure to triple check order details & date.

*If you can't select your prefer date, this means we don't have capacity.

*For terms & conditions, please see our FAQ below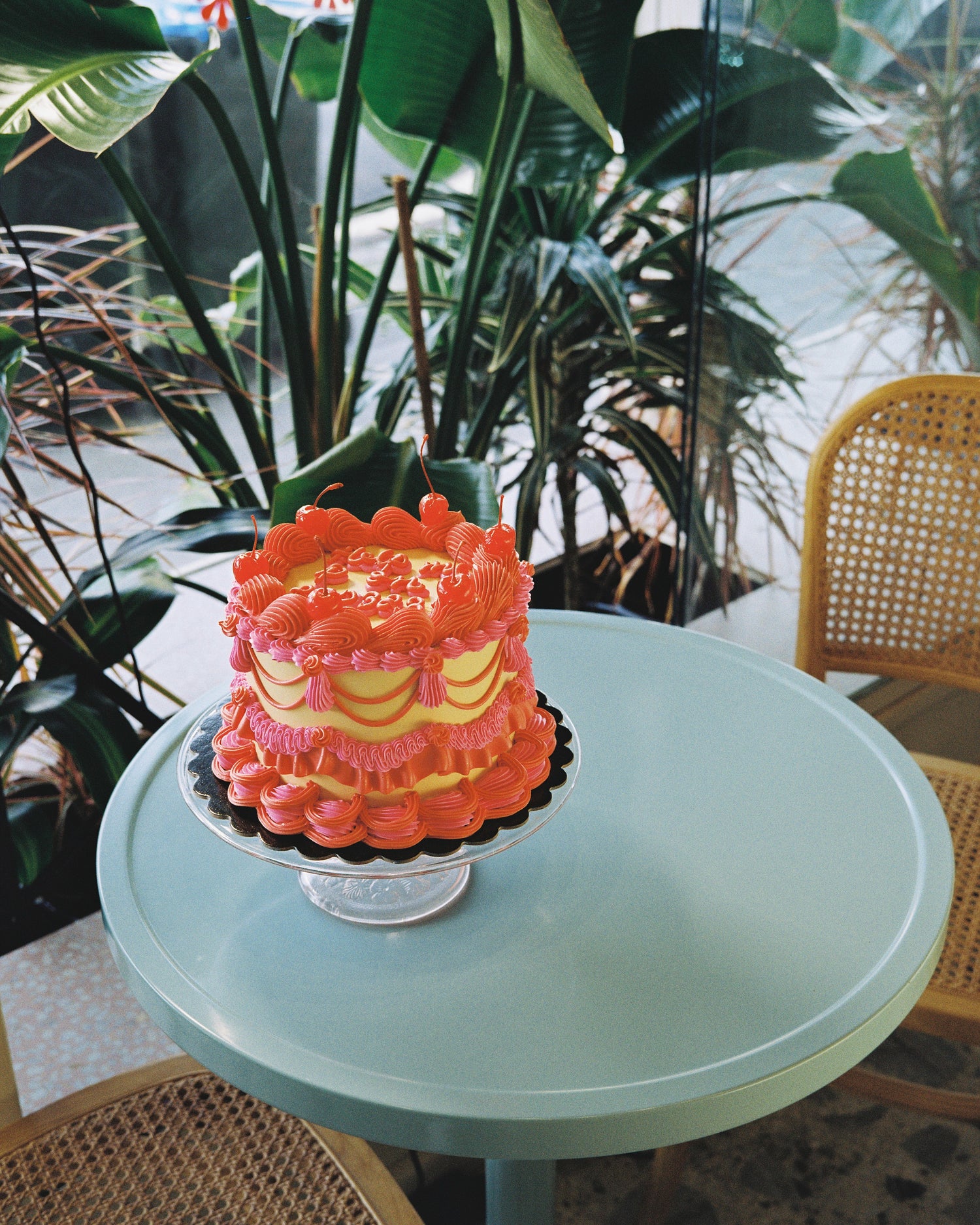 FAQ
We sure do! We offer delivery within 20km of our Thornbury store. If your address isn't showing on our check out page, unfortunately, you're out of our delivery zone. You're more than welcome to organise a courier service or Uber to pick up your cake if you're outside of our delivery zone,
however, please note that we are not responsible for any damage once the cake has left our premises.
Please note, our delivery window is between 9 am-4pm, and we cannot guarantee an exact delivery time within this window. If you need your cake at a specific time, we suggest opting for pick up, or delivery the day before. Our cakes keep beautifully in the fridge overnight!
In the case that we can't contact the recipient at the delivery location, the cake will be returned to our Thornbury location. Redelivery will be subject to availability and time, and will incur a fee.
How far in advance do I need to book my cake?
+
We require a minimum of 3 days notice for customisable cakes orders to ensure our amazing kitchen team have ample time to prepare your beautiful cake from scratch! Online orders can be placed up to 6 months in advance.
Please note that due to popularity, calendar availability may
fill up quickly, so the more notice the better!
Can I change my order after I place it?
+
All orders are final, so please check, check and check again, before checking out!
To change the piped message on top of your cake, please let us know 72hrs or more before the pick up/delivery date via email at info@malibakes.com.
For any other enquiries, email us at info@malibakes.com, and we will do our best to accommodate your enquiry. These may not always be possible, and may incur an extra fee.
These things happen! If something has come up, please get in touch with us as soon as possible at info@malibakes.com with your order number and date.
Delivery fees are non-refundable within 72hrs of cake delivery as our couriers are booked in advance; this includes changing from delivery to pick up.
Once an order has been placed through our website, it is subject to our cancellation policy below:
More than 72hrs before order pick up/delivery – 25% admin fee will be deducted from the refundable amount.
24-72hrs before order pick up/delivery – 50% admin fee will be deducted from the refundable amount.
Within 24hrs of order pick up/delivery – No refund will be offered as we will have begun the process of creating your beautiful
cake. Please let us know if you'd like your cake picked up by/delivered to
someone else to enjoy!
Please note, we will take into account the date we receive contact from you regarding the cancellation, including days when we aren't open!
What's the best way to transport my cake?
+
Please remember cakes are a beautiful, delicate piece of art!
Your cake will leave our store in a secure box to ensure as little movement as possible during transport. We recommend placing your cake either in the passenger footwell, or in the car boot as these are both flat, even surfaces – and crank the aircon! Like butter, cakes can soften quickly when exposed to heat or direct sunlight, so please keep them as cool as possible for their journey to your event.
How should I store my cake before the party?
+
We recommend popping your cake straight into the fridge when you get to your event or home. Preferably in the box to avoid any bumps from
rogue jars, but if it's a little too bulky, you can take it out of the box and
find a nice safe shelf for it. This is particularly important in the warmer months and will prevent any potential melting moments!
However, please remember to remove your cake from the fridge
2-4 hours before you intend to cut and serve it, to give the buttercream and cake plenty of time to come to room temperature. If it's a super hot day, more towards 2 hours, and in the midst of winter, at least 4!
Do you offer gluten free cakes?
+
We don't, sorry! Our kitchen space is limited and so, to avoid any cross contamination, we don't offer any gluten free cakes.
Where do you source your ingredients?
+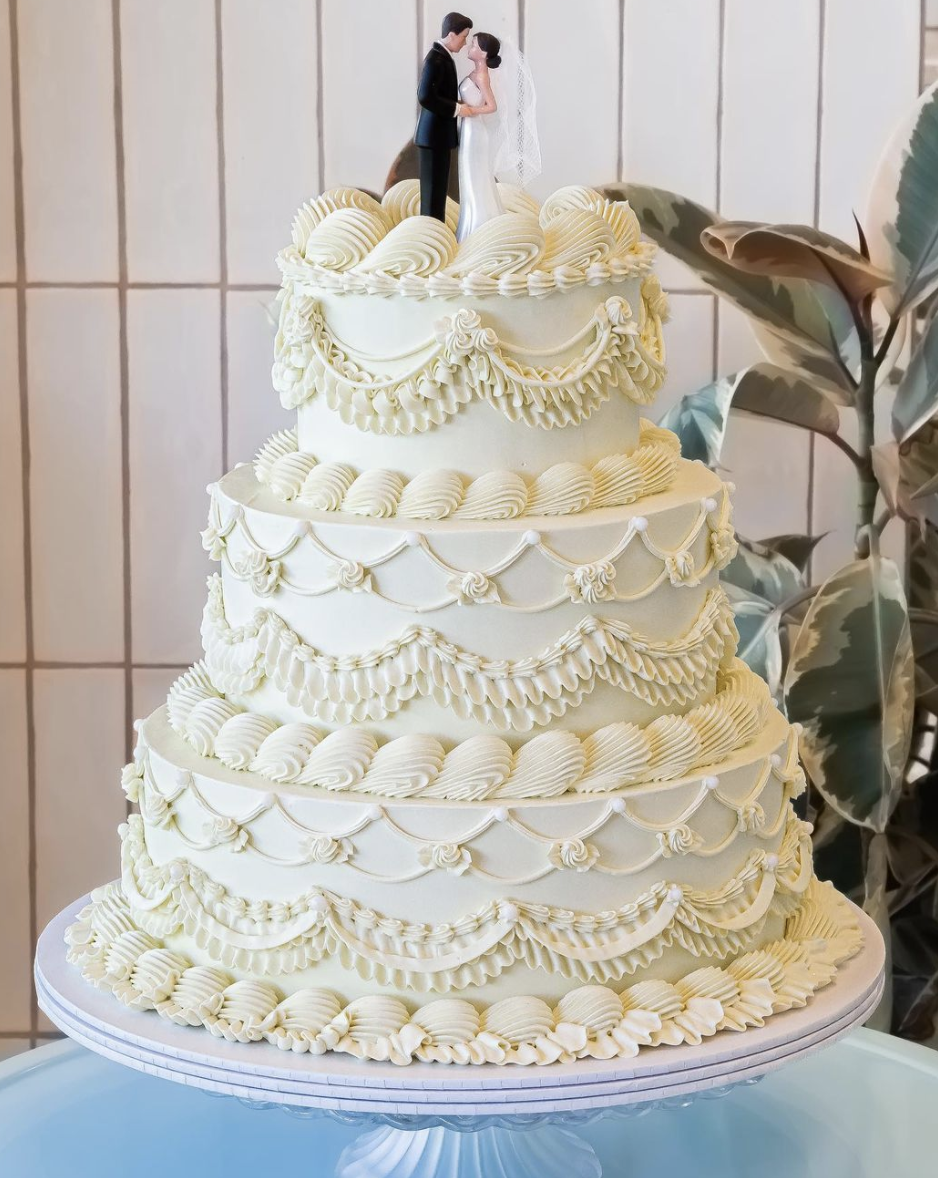 Looking for something a little bit more custom? Whether you are celebrating a wedding, big birthday or launching your new business, get in touch to see how to can make you day extra special.
Enquire